Accountants' most costly weakness – and its dire consequences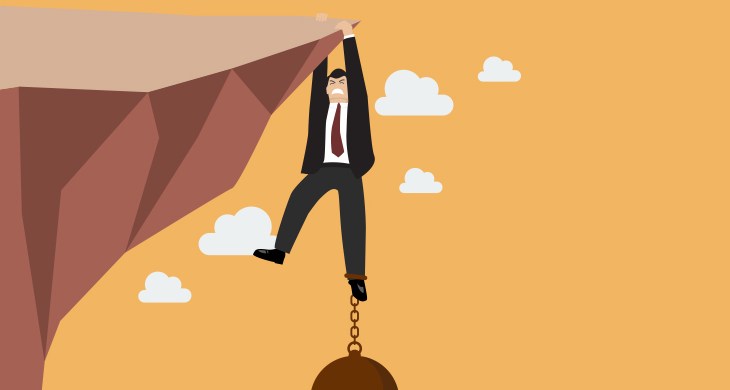 October 16, 2019
This post was written by Dr. Chandra Bhansali, CEO and Co-Founder of AccountantsWorld.
Before we talk about the most costly weakness of accountants, I'd first like to talk about your most important strength.
Being an accountant, your most important strength is your ability to analyze facts and figures and come to a rational conclusion based on that analysis. That's why clients come to you when they need advice. They know you'll give them sound advice. That's what makes you their most trusted advisor.
It is an extremely useful trait. You have helped your clients using your analytical skills. But let's see how well you have used those skills in your own practice to make some of your most important decisions.
If you put your trusted advisor's hat on - and probe deeper - you'll uncover one of the most disturbing realities of the accounting profession.
Intuit controls the minds of your clients and millions of small business owners.  They have stronger control over accountants' clients than most accountants do.
That's the reason why Intuit was able to penetrate so easily and so deeply into many of accountants' core services and have become accountants' fiercest competitor.
Today, Intuit controls accounting with QuickBooks and QuickBooks Online. They have taken a big chunk out of tax preparation with Turbo Tax. And in the short span of just a few years, they have become the largest provider of payroll services.
Now Intuit is expanding into bookkeeping, and possibly also accounting services. There is no reason to believe that Intuit will not have a home run here as well, as they have with other services.
Let's be clear: Intuit is doing nothing wrong. Its corporate obligation is to maximize shareholders' value, and they chose to do it by penetrating deeper into accountants' core services. Judging from the growth of their stock price, it is evident that this strategy has served them well. 
The core issue is not about what Intuit is doing. It's about what accountants are doing to fulfill their obligations towards their firm and their clients.
With so much at stake, it would seem obvious that accountants should do something about this grave situation. Yet most accountants are not doing anything about it. Why not?
There is one genius that knows the answer. That genius is Intuit's founder Scott Cook. He revealed the reason in an interview published in the January-February 2017 issue of Harvard Business Review – one of the most respected business publications.
In the interview, Scott Cook stated plainly what many of us have suspected:
In other words, accountants use QuickBooks because they want to stay in their comfort zone.
Accountants' strong tendency to stay in their comfort zone is their most costly weakness.
This trait has cost accountants control over their single most important core service – accounting. It has badly compromised their most precious asset – their client relationships, and it continues to pose a major threat to their practice in the coming years.
You can easily avert the situation and turn the table in your favor if you can recognize one important fact that you may have overlooked so far.
You won't be able to stay in your comfort zone much longer.
At some point – and possibly sooner than you think – Intuit will stop supporting QuickBooks desktop, and you'll have to migrate to the cloud.
Given that fact, you have two choices.
Either you allow your clients and Intuit to forcefully push you into using QuickBooks Online, or you proactively migrate to a cloud-based solution designed for accountants, like Accounting Power from AccountantsWorld, that lets you regain full control over client accounting so you can do what's best for your firm and your clients.
This alternative would take no more time and effort than getting used to QuickBooks Online.
What option would the professional that makes intelligent decisions based on facts and figures choose?
Visit AccountantsWorld.com if you'd like to learn more about Accounting Power and schedule

 a 30-minute demo.
---
About the author and AccountantsWorld
I'm Chandra Bhansali – co-founder of AccountantsWorld with my wife Sharada Bhansali.
Our true passion is the accounting profession. We were shocked and terribly bothered when years ago, we uncovered how major corporations were using and manipulating accountants to grow their businesses.
Accountants had helped major corporations like Intuit, ADP and Paychex make tens of billions of dollars; but what did they get in return? They lost control of their two core services – accounting and payroll.
Since that discovery, our sole mission at AccountantsWorld has been to bring that control of accounting and payroll back to accountants.
To make it happen, we created a special class of cloud-based, professional, Accountants-Centric solutions that are sold exclusively to professionals like you. Accounting Power includes a professional system and a fully integrated G/L system like QuickBooks, but it eliminates the need for your clients to buy QuickBooks or any other G/L system from an external vendor. That's how you protect and strengthen your client relationships.
And unlike other solution providers, we never compete with you or sell our products or services directly to your clients.
We have empowered thousands of accountants to regain control over client accounting and payroll services, strengthened their client relationships, and made their practices thrive.
If you aspire to join the ranks of these professionals, visit AccountantsWorld.com to schedule a 30-minute demo.
Intuit®  and QuickBooks®  are registered trademarks of Intuit, Inc., and are not affiliated with AccountantsWorld.